Fujifilm X-T3 – One Week Of WOW
A few weeks ago Fujifilm made available their newest high end camera the X-T3 boasting a significant improvement in auto-focus speed and a host of other improvements over the now two year old X-T2. I had the opportunity to play about with one pre launch and the seed was planted proving I am weak willed when it comes to new gear, so I ordered my very own one last week. Initial feelings are all good due perhaps to the excitement of having a brand new camera with the latest spec, in part at least but more so for the effect of using it, even if it's only been a few days.
So what's new? Well the AF is all new with 100% of the sensor now covered with the accurate Phase Detect Auto Focus [PDAF] system. Fuji say there are 2.16 million phase detection points across the entire sensor & you can select groups of them that give you a screen covering of 117 or 425 AF points of them depending on your need. The X-T3 also extends the low light PDAF focusing to a dark -3EV meaning the camera should acquire AF in lowlight much faster than any of their other X cameras. Nice that, and it is noticeable in use as is the new eye/face detect AF. It simply miles ahead of anything they have done before, grabs the eye (and face) of your subject even if the face is far away and holds on as they jump about in and direction. All I said when I tried it out was WOW that's great.
The X-T3's resolution has also had a tiny bump all the way to 26.1mp from 24.1mp Fuji say this new back side illuminated [BSI] sensor gives better resolution with no loss of image quality at higher ISO. I have read reports and seen charts that point to this not being true so here's a straight out of camera JPEG shot at 51600ISO, the highest ISO you can set on the X-T3 so you can see for yourself.
Low ISO has been given a boost to a native of 160 [from 200 in the X-T2] and the low ISO setting of 80 and you get the feeling that Fuji focused their efforts in getting more out of the sensor at lower ISO values, but when the high ISO look good…
With the X-T3 Fuji have included the wonderful film simulation that is the Eterna/Cinema profile. First added into the X-H1 the Eterna/Cinema gives a slightly washed out [flatter] tone while yet retaining great colour balance. Eterna was one of the favourite film.stock used by the Hollywood movie productions, hence the cinema in the name, and you will have seen Eterna's colours in many a mainstream film, like Tom Hanks' Captain Phillips & Oliver Stones' Wall Street: Money Never Sleeps. Eterna has got a great balance to it for video and I find adding a little contrast and colour to this profile makes the colours really pop when shooting stills too.
Check out some of the titles that used Fujifilm's Eterna stock
Added into the colour mix for JPEG output from the camera is the colour chrome effect we first saw in the GFX50s, it's not something I've played about with, but it allows for a little more pop/tone to some colours. There is a great post about it over on the Fujifilm X-Photographers site
Connections to the camera now include Bluetooth for transfer of images as well as sending up Geo location tagging from your mobile phone and improved WiFI connection for faster transfer of images and remote control via an app. Day to day these are nice features to have. On the hardware side of connections, for those who need to connect a cable it's all change. We now have one USB-c port on the side that will not only allow for very fast image transfers either while downloading from the SD card or tethering during a shoot but it also allows you to charge the camera battery [and power the camera if your pack has enough juice], which is a nice and up to date upgrade. Perhaps the biggest inclusion on the connection side is the mic and headphone IO's are now both on the camera so no need to add the grip just to monitor your audio output during video recording. Fuji do listen to their customers! Finally we have a camera that has not only two card slots but two USH-II SD card slots. USH-II is a very fast standard allowing your camera to clear it's buffer very quickly, handy if you are going to shoot with Fuji's new Sports Finder mode, a mode that will allow you to shoot a continuous high speed of 30fps. That limited the resolution back down to 16mp as it also croups in the frame x 1.25 times and needs to use the electronic shutter. But still 30fps… You can shoot up to 11fps with the full frame and mechanical shutter. The electronic shutter suffers a lot less with motion wobble so Fuji have worked well to get that in control.
New to the X-T3 is a function called Pre-Shot, this will start to capture a second of images into the buffer when you half press the shutter on a loop and when you fully press to take a shot the camera saves the pre-shots and records till the buffer fills up or you release the shutter. This is amazing to shoot with, more so when you enable the 30fps mode and although you can end up with a lot of images to sort through the timing of the perfect moment it easier to get. You can see below the frames as I shot them and the moment Reuben lets the arrow fly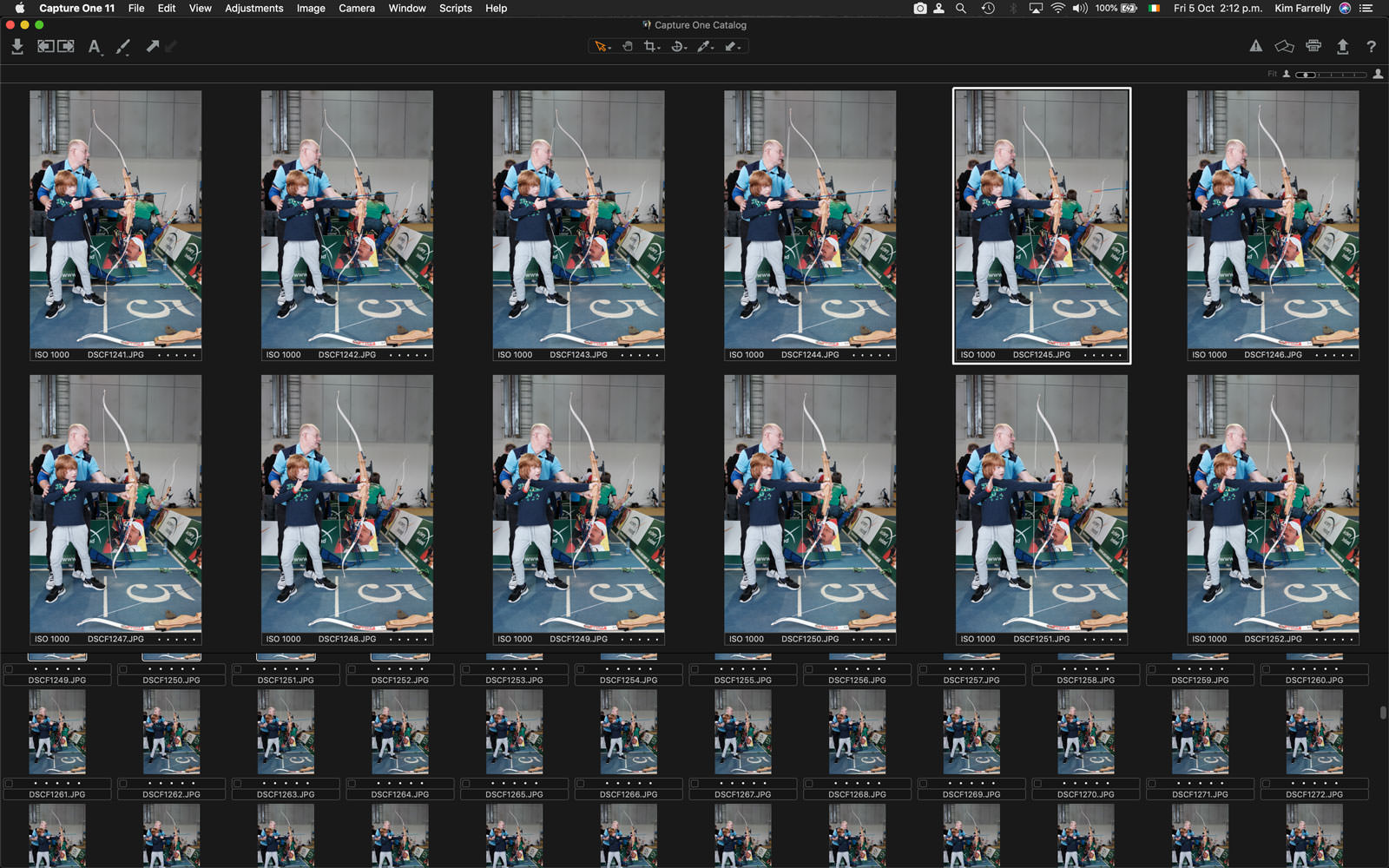 There is loads more to talk about with the new Fujifilm X-T3, we haven't really talked about the amazing video quality this camera gives. It can record up to  DCI 4K 60p @ 400Mbps H.265. The h.265 is Apple's new file format compression it is really good and very tidy. The video looks top notch with 10bit internal 4:2:0 and that bit better of you record external via the HDMI port as you get the 10bit with 4:2:2 out to an external recorder like the Ninja V. The only thing Fuji could do here to improve things would be to allow raw video out over HDMI and include Apples new ProRes Raw codec, or even allow us to record to an external SSD attached via the fast USB-c port… We can wish.
So is the camera a good upgrade over the X-T2? Well yes and no.
If you want or need the faster AF, the connectivity matters to you or you fancy the new video output then yes, yes it is. If those things are not of much concern then the X-T2 or the X-PRO2 [my favourite] will keep you happy. Plenty of shots from the X-T3 over on my IG page, here.
The following shots were all taken by me with the X-T3 & edited in Capture One, I'll update with more soon but in the mean time thanks for reading.